HEY peeps! This is posted over at
YA sisterhood
and you can vote on the match till midnight. PLEASE help Luna win this round!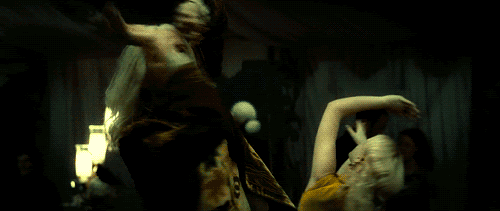 About Luna Lovegood

We first meet Luna Lovegood in Harry Potter and the Order of the Phoenix She's describe as "loony" and teased by her classmates. She's got wild blonde hair, a unique sense of style and trademark radish earrings. She's the oddball Ravenclaw who reads the Quibbler, believes in nargles and just doesn't seem to fit anywhere. (And this is a school of wizards, so to be the class freak is kind of a big deal).
She shrugged. "I think they think I'm a bit odd, you know. Some people call me 'Loony' Lovegood, actually."
Best Attributes
Luna is always ALWAYS Luna. She doesn't let anyone change her. Even though she's being teased she never wavers from being herself. Luna is aware that she's the outcast and there are heartbreaking mentions of how she wants friends, but she's not willing change herself to be accepted by other people.
What makes Luna a true heroine?
She's smart, loyal to her friends, loves her father, is unflinchingly honest, stands up for what's right, believes in herself, fights evil...do I even need to continue? She does it ALL. You're unlikely to find a heroine quite as well-rounded as Luna Lovegood. One of the things that impresses me most about Luna is that all the teasing doesn't seem to phase her. She shrugs it off with a smiles. To me that's amazing.
The key to Luna is that she has that unbelievably rare quality of actually not giving a damn what anyone else thinks of her. Now, if we as adults say honestly how many people we've known like that I think very many of us would say uh none! And Luna's like that. She doesn't actually care. She's so comfortable with being different. She's fearless.

-JK Rowling
What makes Luna better than Sophie?
I'm not going to say anything bad about Sophie. Luna wouldn't, and as her representative why should I? I think Luna and Sophie would get along, could be fictional BFFs and Luna wouldn't even care about Sophie's...um...species (if that's even the proper word). What makes Luna better is that she's more comfortable in her own skin than Sophie. Luna is fearless and that is so unbelievably rare even among heroines.
Also I want to say that Luna is the heroine that most teenagers NEED to read. She can give them courage to be themselves. Luna shows that it's okay to be different and eventually no matter how odd, you'll find friends who accept you as you are. That's what stands out about her above ALL the other heroines in the tournament. Luna says "you don't have to fit in," and in a world that seems increasingly plagued by bullying thats an important message. Luna is a message of hope.
Anything else you'd like to add?
I really wish I were more like Luna Lovegood. I also want to include this lovely quote about Luna Lovegood's bedroom. Shows how much she truly loves her friends.
"Luna had decorated her bedroom ceiling with five beautifully painted faces: Harry, Ron, Hermoine, Ginny, and Neville. They were not moving as the portraits at Hogwarts moved, but there was a certain magic about them all the same: Harry thought they breathed. What appeared to be fine golden chains wove around the pictures, linking them together, but after examining them for a minute or so, Harry realized that the chains were actually one word, repeated a thousand times in golden ink: friends...friends...friends."